Disney World Florida 2010 Mickey Goofy Donald Pluto Gray T-shirt Men's Medium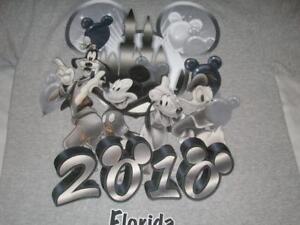 ---
Hi, this item is in great used condition. The graphics are in great condition. Minor wear from light use/wash. Please check pics to confirm. It's a fan must have!   Best Offer Option!

Click images to enlarge

Disney World Disney 2010 T-shirt

Description: Condition*:  Used. Condition Details:  This item is in great Condition. (Poor-Fair-Good-Great-Excellent) Graphics are in great condition. Minor wear from light use/wash. Items may have additional minor flaws but major flaws are noted.  ENJOY!!! Other Favorite links:  www.stores..com/ATexasSizeFleaMarket
| | |
| --- | --- |
| MIMB or MIMP | Mint in Mint Box or Package |
| MISB or MISP | Mint in Sealed Box or Package |
| MIOB or MIOP | Mint in Opened Box or Package (Opened & with box or packaging.) |
| MIB or MIP | Mint in Box or Package (Item is Mint ONLY!) |
| Shelf Wear | Creased or damaged box or package due to original shipping or longevity on shelf.  See "Condition Details." |
* See table for definitions of acronyms.
Disney World 2010!!! ---Disney
During Auctions:
Pay attention to the written description and the pics. 
A picture is not worth a thousand words.  Most pictures of items look extremely well due to the bright lighting. So, please use both to evaluate an item. 
ALL ITEMS ARE SOLD AS IS.
Pictures in my auctions will be of the actual item(s) unless, I state otherwise.
Review my feedback for confidence in shipping, accuracy and speed.
Shipping calculators are available for domestic and worldwide.  If it is cheaper, I will use a flat rate box for domestic only. 
Please check out my store or any of my auctions.
Please add me to your favorites.
I only respond to questions or comments with Messaging.  
After Auctions: I will send you an invoice (via ) with the total amount due.  Payment is to be received no later than 4 days. Please use the "check out" to inform me that payment is being sent via PayPal. I will ship as quickly as I can.  Usually within 48 hours.  If I am delayed, I will notify you. I do ACCEPT RETURNS.  Please allow me to rectify any problems before you pass judgement via any type of feedback.  Good communication is a must! I give Feedback when Feedback is posted for me. Remember, I only respond to Messages & please communicate if there are ANY PROBLEMS. Best Offers: Best offers allows you to negotiate the price with the seller.  My first offer is my asking price. It is up to you to give me a counter offer.  A Best Offer allows me to accept or decline your offer.  In the case it is declined, you have 4 more offers to negotiate with me. In the case it is accepted, you have won the item and payment is due within 4 days. If payment is not made, I will make a Non-paying Bidder case against you so that I can recover my Final Value Fees from . This is s Policy and you get 7 more days to pay. It cannot be cancelled at this time and must run its course. You may cancel the offer within the 3 days to avoid this Non-paying policy. I look forward to working with you, Take Care!
Payment & Shipping Terms:
I accept PayPal
Shipping fee will be by the United States Postal Service (USPS) Priority Mail Rate . 
The choices on the calculator are what's available for the auction.
Please use the calculator by entering your zip code.
Overseas transactions:           
I only accept PayPal for overseas transactions!  Must be in US currency!
Use the Shipping Calculator for estimates on shipping.
It takes more time to complete so bear with me and be patient.  It will get there.
Communication is a must through Messages. 
I will Message you with the date your item is sent from the USA.  
Customs my be holding your item and I have no control over that. 
Customs fees, taxes, etc. are the responsibility of the buyer and not part of shipping costs.
First Class and Priority International may take up to 2 to 4 weeks or more for delivery.
Please check the tracking number for location.
Delivery may take up to two months if customs has selected your item for review. (I am not in control of that.)
Please, if there is a delay, notify me and we will try to find out where it is.  Thanks! 
My 2 Cents
I love having fun while buying and selling on just like the next guy.  Be advised that this is a contract to buy the item(s) you have bid on.  Corrective action and feedback will be submitted if bid is not honored.  It really quits being fun when people do not follow the rules. 
I look forward to doing business with you and I appreciate your business! 
Good Luck!!!
| | |
| --- | --- |
| Images sell!Get Supersized Images & Free Image Hosting | Create your brand with Auctiva'sCustomizable Templates. |
Attention Sellers - Get TemplatesImage Hosting, Scheduling at Auctiva.com.

Track Page Views WithAuctiva's FREE Counter