Sony Clie PEG-TJ27 Software Driver Installation CD-ROM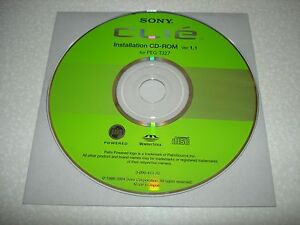 ---
This auction is for the Original Sony Clie TJ27 Software Driver Installation CD-ROM Ver 1.1. This includes the CD-ROM Only!!! No PDA or any other accessories included. You get what you see in the picture.
Compatible with PEG- TJ27
The CLIE Software Original Installation CD-ROM contains the following programs:
CLIE Desktop (CLIE Basic)
* Palm Desktop for CLIE
* Adobe Reader 6
CLIE Image
* Image Converter
CLIE Audio
CLIE Utilities
* CLIE Mail Conduit
* Data Export
* CLIE Mail
* CLIE Update Wizard
* Intellisync Lite
Third-party Applications (Additional Software)
* Personal Productivity
* Business Utilities
* Travel
* Games
Manuals
CLIE Data Management
CLIE Add-on Applications
Email me if you have any questions. I might have the software installation CD-ROM for these models: PEGA-CC5 / Street Finder PEGA-KB100 PEGA-KB11 PEGA-VR100K PEGA-WL100 PEGA-WL110 PEG-NR70V/U / NR70/U PEG-NX70V/U / NX60/U PEG-NX80V / NX73V PEG-NZ90 PEG-SJ22 PEG-SJ33 PEG-SL10 / PEG-SJ20 / PEG-SJ30 PEG-T615C / T415 PEG-T665C PEG-TG50 PEG-TH55 PEG-TJ25 / PEG-TJ35 PEG-TJ27 PEG-TJ37 PEG-UX40 / PEG-UX50
Please contact me for international shipping options and charges BEFORE you bid. I will ship within 2-3 business days!!